Integrated Science & Technology, Inc.
Corporate Headquarters
---

Telephone:

3301 Windy Ridge Pkwy, Ste 250, Atlanta, GA 30339

Copyright © 2016 Integrated Science & Technology, Inc. | All Rights Reserved
Website designed by
---
ENGINEERING DESIGN, CONSTRUCTION MGMT & SYSTEM OPERATIONS
Remediation & Engineering
Engineering Design, Construction Management & System Operations
Integrating engineering and construction management for our clients leads to the most efficient and cost-effective implementation of our innovative designs. Our project design engineers are intimately involved with the construction project to provide immediate interpretation of the plans, specifications, and quality-assurance issues.
IST's engineers have designed and managed the construction of a wide range of environmental projects. Many of these projects have involved civil engineering - constructing roads, sewer structures, storm-water drainage, landfills, and secondary containment.
IST has designed, installed, managed, and operated many soil and ground-water remediation systems involving nearly all accepted remediation technologies:
IST was the technical lead on one of the world's largest environmental design and construction projects, located in Trecate, Italy. Over 5 square kilometers of productive rice fields were impacted as a result of a 20-million gallon crude-oil blowout. Remediation was achieved by integrating various technologies: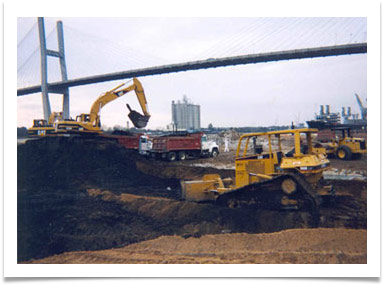 ■
Groundwater Pumping & Treatment
■
Bioventing over 30 acres to a depth of 13 meters
■
Constructing two, highly engineered 15,000 cubic meter biopiles
Project Management
Construction Schedules
Cost Estimates
Quality Assurance
Bid Negotiation
Landfills
Secondary Containment
Civil Engineering
Remediation Engineering
Storm-Water Drainage