Integrated Science & Technology, Inc.
Corporate Headquarters
---

Telephone:

3301 Windy Ridge Pkwy, Ste 250, Atlanta, GA 30339

Copyright © 2015 Integrated Science & Technology, Inc. | All Rights Reserved
Website designed by
---
PILOT TESTING
Services

Feasibility or pilot testing often can determine the most cost-effective engineering solution to achieve regulatory mandates. Proper pilot testing can also reduce costs. Properly designed and implemented, pilot tests can determine the most efficient, but cost-effective, solution for a site.
Pilot tests are designed to generate reproducible and scientifically defensible data for use in our engineering designs. This approach results in engineering solutions that work the first time and eliminate costly follow-up repairs and modifications.
Other pilot tests may focus on determining treatability of various chemicals of concern by:
Complex projects may require pilot tests of varying focus and scale to formulate design parameters, to optimize the design, and to evaluate constructability before determining the efficacy of an engineering approach. Another tool IST often employs is a numerical or analytical model(s) to make predictions about potential engineering solutions based on the results of our pilot testing.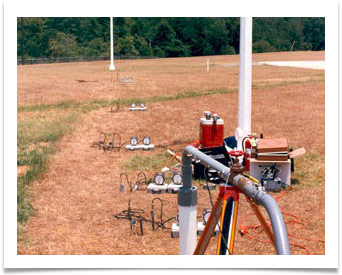 Air Permeability
Radius of Vacuum Influence (bioventing or soil-vapor extraction)
Radius of Pumping Influence
Drawdowns
Well Yields
Effect of Vacuum Enhancement (groundwater pumping and treatment, multiphase extraction)
Relative Air Saturation
Upwelling Measurements
Dissolved Oxygen Increase (air sparging)
Subsurface Lithologic Heterogeneities
Mass Transfer Technologies (carbon adsorption, air stripping, thermal desorption, thermal or catalytic oxidation)
Physicochemical Treatment (gravity separation, coalescing media, chemical oxidation, stabililization, pH adjustment, flocculation/precipitation, filtering, etc.)
Biological Mineralization (respirometry, BOD, cometabolism, biological speciation, and effect of nutrient addition)
Lab-, Bench-, and Field-scale Pilot Testing
Modeling to Predict Effect of Engineering Solutions
Bioventing/Soil-vapor Extraction Pilot Tests
Multiphase Extraction Pilot Tests
Groundwater Pumping and Treatment Pilot Tests
Air-sparging Pilot Tests
Treatability of COCs Pilot Tests
IST's design professionals use accurate site-specific information to evaluate and design feasibility testing programs. These programs include the most economical solutions for a site. IST can perform feasibility testing on a lab scale, bench scale, or field scale. Pilot tests may be designed to measure physical parameters:
&nbsp