Integrated Science & Technology, Inc.
Corporate Headquarters
---

Telephone:

3301 Windy Ridge Pkwy, Ste 250, Atlanta, GA 30339

Copyright © 2016 Integrated Science & Technology, Inc. | All Rights Reserved
Website designed by
---
REMEDIATION TECHNOLOGY
Remediation & Engineering
IST is an industry leader in applying innovative approaches to subsurface remediation, with many successful remediation projects in the United States and Europe. We have applied a wide range of remediation technologies to a variety of sites and contaminants and have successfully brought numerous sites to closure through active remediation. IST has also avoided active remediation at many sites through risk assessment, regulatory negotiations, and analysis of monitored natural attenuation alternatives.

IST has designed, installed, and operated successful remediation systems at:
Partnered with a construction management firm, IST was the technical lead, designer, and operator for one of the largest remediation projects in the world: a system designed to remediate an oil-well blowout in Trecate, Italy. This system integrated biopiles, bioventing, vacuum-enhanced oil recovery, landfarming, and intrinsic bioremediation on a site that covered an area of approximately 1.5 square miles.
These sites were impacted by a wide range of contaminants:
IST personnel have authored numerous textbooks on remediation techniques and principles, published widely in the technical literature, and served as peer reviewers for several respected technical publications.

IST is an internationally recognized leader in bioremediation, with numerous staff publications documenting experience with many in situ and ex situ bioremediation systems that we have installed around the world. Additionally, IST staff have repeatedly chaired international conferences, symposia, and discussion forums in the areas of bioremediation and remediation technology. IST's remediation experience also includes many demonstrations of natural attenuation and monitored natural attenuation of organic compounds and arsenic.

IST's remediation philosophy is to help clients achieve site cleanup goals as efficiently and quickly as possible. Well conceived pilot testing, system design and installation, system run time maximization, and system optimization achieve this. Quantifying the progress of cleanup (contaminant mass removal and concentration reduction) provides evidence to petition for site closure. This quantification often paves the way for the approval of natural attenuation tracking or granting a status of no further action at a site.
■
Oil-Bulk Storage Terminals
■
Wood Products Manufacturing Facilities
■
Retail Gasoline Facilities
■
Chlorinated & Other Solvents
IST has either developed or used most of the remediation technologies in existence, and we have brought several sites to closure by integrating in situ and ex situ technologies from the following list:
Pump and Treat
Monitored Natural Attenuation for Organics & Arsenic
Biosparging
Vacuum Enhanced Multiphase Recovery
Bioremediation/ Natural Attentuation
Bioslurping
Soil-Vapor Extraction
Landfarming
Bioventing
Biopiles
Excavation
RCRA Caps
Secondary Containment
CLASSICAL CASE
---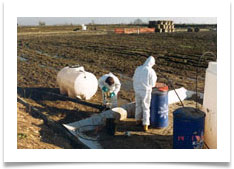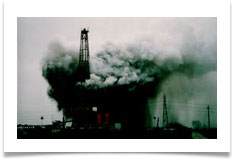 Trecate, Italy Oil Blowout
Trecate, Italy Landfarming