Integrated Science & Technology, Inc.
Corporate Headquarters
---

Telephone:

3301 Windy Ridge Pkwy, Ste 250, Atlanta, GA 30339

Copyright © 2016 Integrated Science & Technology, Inc. | All Rights Reserved
Website designed by
BIOPILE REMEDIATION - AGIP
---
A blowout at an oil well in Trecate, Italy resulted in crude oil contamination of about 4 km2 of agricultural land. Through an international competitive process, the team of IST and Foster Wheeler Environmental was awarded the remediation contract.
---
IST's Solution:
The remediation approach developed was entirely based on biodegradation of the crude oil. Oil and soil from highly impacted areas were surgically excavated to minimize volume. The excavated soil, which totaled about 25,000 m3 (33,000 yd3), was mixed with a bulking agent and was used to construct two large biopiles. These were engineered to achieve the highest possible biodegradation rates and included air injection to provide adequate oxygen to heat trace to maintain temperatures optimal for hydrocarbon biodegradation. The piles also contained a system of probes and sensors to provide process control data (i.e., oxygen, carbon dioxide, hydrocarbon, moisture, and temperature) that could be used to maintain optimal conditions. Process control data were captured and stored in a computer database. The biopiles were totally contained in an HDPE membrane to conserve heat and moisture and to minimize leachate production. Quarterly soil sampling and in situ respiration tests were performed to track remediation progress. Roughly 80 percent of the biodegradable fraction was remediated over the first year of operation, reducing average TPH concentrations from greater than 20,000 to less than 4,000 mg/kg.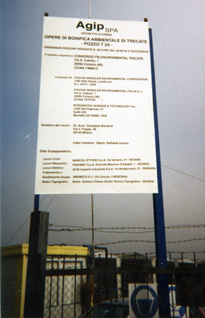 Additional Projects
The less impacted areas and the excavated areas were bioremediated via intensive landfarming. In this process, the impacted area was treated with fertilizer to provide nutrients and was cultivated to increase the oxygen concentration. Oxygen, temperature, and moisture sensors were installed in the area to gather process control data used to determine the need for cultivation (aeration) and nutrient addition. The entire bioremediation process was carried out with indigenous organisms. Upon completion of remediation of the soils in the biopiles, they were placed back in the fields from which they were excavated.
Site: Agricultural land in Trecate, Italy
Environmental Concern: Crude oil contamination of agricultural land from oil well blowout