Integrated Science & Technology, Inc.
Corporate Headquarters
---

Telephone:

3301 Windy Ridge Pkwy, Ste 250, Atlanta, GA 30339

Copyright © 2016 Integrated Science & Technology, Inc. | All Rights Reserved
Website designed by
---
RISK ASSESSMENT & STRATEGIC RISK MANAGEMENT
Remediation & Engineering
Risk Assessment & Strategic Risk Management
IST has conducted numerous human health and ecological risk assessments to assist our clients with the strategic management of risk. Because the risk-assessment process is highly interdisciplinary, IST's staff (composed of biologists, chemists, geologists, engineers, and hydrogeologists) is well positioned to mechanically apply the process and able to understand the science and mathematics behind it.
We can produce a well thought out and technically defensible product. IST's approach is probabilistic and is fully supported scientifically and by the regulatory community. Our foundation in traditional risk assessment renders IST unique in the industry.
Accurate risk characterization helps our clients make informed decisions about strategic risk management and appropriate next steps.

Our risk assessment experience includes federal and state Superfund projects and risk-based assessments performed for private industry potentially responsible party (PRP) groups. Through this experience, we have developed a comprehensive understanding not only of the mechanical aspects of the process in general, but also of the fundamental tenants underlying the risk-assessment approach.
IST has applied risk assessment at:
Contaminants Evaluated:
Sensitive Receptors Evaluated:
Exposure Pathways Evaluated:
■
Numerous Petroleum Impacted Sites
■
Chlorinated & Non-Chlorinated Solvents
•
Underground Storage Tank Sites
■
Commercial Buildings (with & without basements)
■
Drinking Water Wells (both public & private)
■
Endangered or Protected Species
■
Separate-Phase NAPL Transport
■
Indoor Air Volatilization
■
Surface-Water Discharge
■
Permeation through Floor Slabs or Basement Walls of Structures
Contaminant Transport & Ground-Water Modeling
Site Reconnaissance
Geophysical Surveys
Risk Assessment
Soil Assessment
Ground Water Assessment
Soil-Vapor Surveys
Aquifer Characterization
Monitoring Well Installation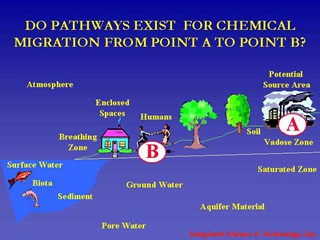 A holistic understanding of environmental systems and media is essential