Integrated Science & Technology, Inc.
Corporate Headquarters
---

Telephone:

3301 Windy Ridge Pkwy, Ste 250, Atlanta, GA 30339

Copyright © 2016 Integrated Science & Technology, Inc. | All Rights Reserved
Website designed by
---
SITE REMEDIATION OF KUWAIT IN THE GULF WAR PROJECT
Additional Projects
Site Remediation of Kuwait in the Gulf War
Site: Contamination from Iraqi actions in the 1991 Gulf War
Environmental Concerns: Oil lakes contamination from 1991 Gulf War
IST's Solution:
---
IST assisted in development and evaluation of remedial strategies to treat the oil lakes contamination. IST has worked with Kuwaiti UXO experts to assess the soil contamination, develop a risk assessment demonstrating the need for clean up, and develop a safe, cost-effective approach to soil remediation at these sites. Technologies reviewed and screened included: high temperature thermal desorption, incinertion, bioremediation, soil washing, oil recovery, and recovery or reuse of the material as asphalt or feed for power generation. Following the review, it was apparent that high temperature thermal desorption was the most cost-effective approach. Based on this conclusion, IST assisted in development of a preliminary design and cost estimates.
The Success:
---
This project was a compensation-allowed project by United Nations Compensation Commission Gulf War. IST provided support both in the development of the claims documents and provided expert witness testimony at the UNCC hearings.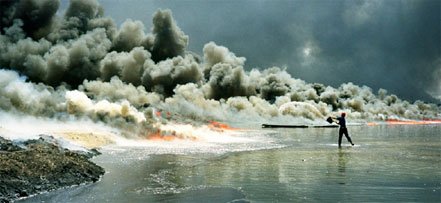 &nbsp